Gnutls3.6.7 accepts a certificate whose notbefore field is a non-digits string while openssl rejects such certificates
I recently created a certificate chain [rootCA,intermediate certificate,leaf certificate], which leaf certificate has an invalid notbefore fields with " #0101010I00Z" . Clearly, the string include non-digits. Meanwhile, the chain can still pass certificate verification with Gnutls3.6.7, however,the chain was rejected by openssl. Does Gnutls3.6.7 have a bug here? (Or do I have some misunderstandings on Gnutls3.6.7 in its parsing or verification procedure?) Will it cause any further problems in certificate verification?
The command I used is:
certtool --verify --load-ca-certificate 1.pem --infile leaf.pem
The verification returns:
Chain verification output: Verified. The certificate is trusted.
however, the result of openssl:
error 13 at 0 depth lookup: format error in certificate's notBefore field




error afl_test/cert/testw.pem: verification failed
Through debugging, I found that when parsing the notbefore field, gnutls3.6.7 is not processed the same way as openssl. Gnutls did not determine whether the value of notbefore is a numeric string.
the gnutls code: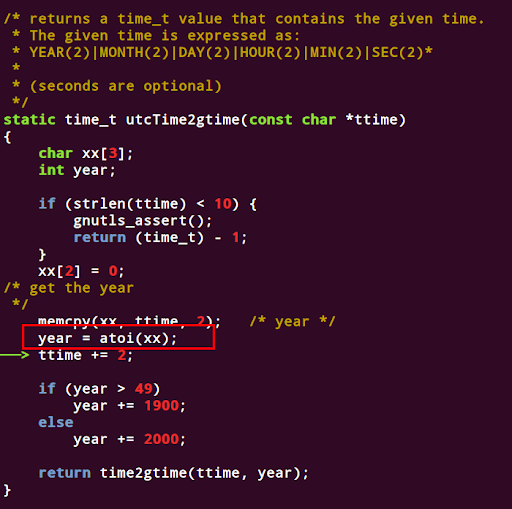 when the year of time is non-digits strings, 0 was returned by atoi(xx). No errors are reported.file.tar the openssl code:
1.pem (it contains two certificates inside):
-----BEGIN CERTIFICATE-----




MIIGCDCCA/CgAwIBAgIQY8Mi35RmHbQSpWR8XD7V+zANBgkqhkiG9w0BAQsFADBt




MQswCQYDVQQGEwJDTjEMMAoGA1UECAwDVEo1MQwwCgYDVQQKDANUSlUxFDASBgNV




BAsMC2JlaXlhbmd5dWFuMQswCQYDVQQDDAJDUzEfMB0GCSqGSIb3DQEJARYQbGpm




cG93ZXJAMTYzLmNvbTAgFw0wMDAxMDEwMTAwMDFaGA82NTY2MDMyMzEyMTIzM1ow




ajELMAkGA1UEBhMCQ04xDDAKBgNVBAgMA1RKNTEMMAoGA1UECgwDVEpVMRQwEgYD




VQQLDAtiZWl5YW5neXVhbjENMAsGA1UEAwwEYjMyNjEaMBgGCSqGSIb3DQEJARYL




bGkxQDE2My5jb20wggIiMA0GCSqGSIb3DQEBAQUAA4ICDwAwggIKAoICAQDUWAVE




VHGqn3tPc+kJTGwXpsiD+pwu287ibcwa7nlcQ8KyrwbS/7dnhK3Mpz3jjkbk9Zqw




Ju8R5ku9hEsSX3ZW7KQYj+jqVWVnLNlp5j0a1G2fdB7vn0ORtj9GgFAbKn37cXqo




6G2EyQ0NXhpOiwUtQXSnhbMUUJal2jMSaSGSKyyex9lDrZfSzQ164VIvMKz49kPB




Z6EupA0E6QkwZ1a8wGthdhQ3tJrHt0jcmBVpJ5mo9zlvX7ErsK4prXgJvBQR/IRc




YhqYHxsKLq/mgjezNqy/WoPN313HxDG8YETy8m9BKWI5OLBHIr0kahmBFumttlGa




a4rW+w2NZz8jtrnkM8sFSEoegO7xA8JZdO6O3mSedWOiA2zEuT8hQqkSYDSdZxOd




J1u/mdyumLErXquenaMTAHb0lviNc7llZqDKMJ8yfROZwv9PDCs3OBGOttr3MMRT




JHN5f4ZStqx6unV90Rx8QIh8wstG3c/QrJ4lBS+c72A6bMmxLpiTg1+CjG9ntgvC




mspMbVlu710Y7JHcAuq9RSnR0Nv31AGjOZEpKAGpUfzoVf47GYV38VpLskgy0tiA




Tesse5g8rUE9ozwgj6B34qfNdPxCmv6UkLYxU/CLpw2cRKT8hShAO8zDfgmU9262




ctTdrVU3PsSwMs7F8SlG/9kWq6HgqaBPadCsRwIDAQABo4GkMIGhMB0GA1UdDgQW




BBSSPopRSpZMfPAxCvUPCu4TZmh38DAfBgNVHSMEGDAWgBRyFaB24RFh9c9zf0+D




YA01twtiWjASBgNVHRMBAf8ECDAGAQH/AgEAMA4GA1UdDwEB/wQEAwIBhjA7BgNV




HREENDAyggdhYmMuY29tggkqLmFiYy5jb22CB3h5ei5jb22CDXd3dy5iYWlkdS5j




b22HBH8AAAEwDQYJKoZIhvcNAQELBQADggIBAJwtzZT7z1eImP8a7GTnfbPYu8k4




kdbGnWSyrEr8x6UjZQLCa1DXdxKkms84yCW1QM5vdKody/Sz1lvETPeTgpXRLlcO




i/75L+Knz1asfz3D+SO/YCSc/VF27GnkKyjFlt7LUmHuFUQoprpCi12wJ0IJP5D6




AQarnWuS2AA4op0exLrK1+BonYyqH//QDt5jhUJFEKQVgckHOtVOklHmazplr8bu




JzHz0+C7mDtZbLXoBSgZIFaVCSk4uxsf98QWOxKQURUv8gAhHLOo/QlkyqiiFCaN




1Se0Zp16pegTxs0qS8qY1pLgw4AO56ifG+LcOmYminbAZtApmiOvtxf8JAw5Twc8




6gLRlq2cv/bY55hZde4uvUzC/Te/zENu9rlv7qQqQ9jS5tiWZjZVqhEt275KymBT




4855pB+8oGb5Xznl6/AzmxUbOmRX1q5bbv+11ZscRtUp3XD3gA5Y5UYBF5UVICcb




zTVUNDgaUjyuXIiF/ZFtbcxX57PfIqKHP3A2XseUhpN3qFSWb29BsTAa7E59s8pL




0m/aftSXF1g/8q0IsHFuZRv4l+eyYWJhwtQTY9TTHnjYJbljcwGtVjYuAfMB+eec




beH0LdKLVbOKlMPySiqy18cKDkwQ1wTPqoZnz5/mKRr5Hpt/RKSe997NjIeuJZl0




W0ebRMo2T0FNhUhm




-----END CERTIFICATE-----




-----BEGIN CERTIFICATE-----




MIIGCDCCA/CgAwIBAgIQY8Mi35RmHbQSpWR8XD7V+jANBgkqhkiG9w0BAQsFADBt




MQswCQYDVQQGEwJDTjEMMAoGA1UECAwDVEo1MQwwCgYDVQQKDANUSlUxFDASBgNV




BAsMC2JlaXlhbmd5dWFuMQswCQYDVQQDDAJDUzEfMB0GCSqGSIb3DQEJARYQbGpm




cG93ZXJAMTYzLmNvbTAgFw0wMDAxMDEwMTAwMDBaGA85OTk5MTIyMzExMjMzNFow




bTELMAkGA1UEBhMCQ04xDDAKBgNVBAgMA1RKNTEMMAoGA1UECgwDVEpVMRQwEgYD




VQQLDAtiZWl5YW5neXVhbjELMAkGA1UEAwwCQ1MxHzAdBgkqhkiG9w0BCQEWEGxq




ZnBvd2VyQDE2My5jb20wggIiMA0GCSqGSIb3DQEBAQUAA4ICDwAwggIKAoICAQC+




WcvCnpCA78zG1ZkRhiIPjPEmFx3PHaX5f+KYod68qvCqsRGsB4n7rQS2ljFUZ7MY




4GNWtiMZANdWMuOrnkT0sNmtQ1aXWh+6lMUKLr/690SkKMbKU1y6OTfGBntau6em




1djv9Q8fYmapdne3tr5UNTJBvqc5qivWiF98XUQdp8qGKLYfF0NOxkreD6u4Pddo




/6PR5pn+nbgCHkDFmVGL+0DtZzC+K/NQbKpmP4/Zpolf1C5wPpxWPpjDl/yRSctC




qX1G0WGyB8/w/IR94Gx3rDmA/NkZMP+4tXBFVSoz0XJpdNqCtwxCkl6NqLpMN0gp




XrU78ToNnTiUW4zoyIfKBSlXRkPd4srgB8gTO3cHqJkSmzt/gFMnbBP1gNV10R0P




KzbNuV/uIHx5wGYJIW8w9fL8hKrCYcO5Yfq3VDGy9Lr3/5QFYI36oPLIw0cZS/i+




NyPLYT1TN/o6E8dtnsz1AY+VQyriW44CB6J3tlfrGLigfP81rsaQpcGd+W+0ntyc




cWpzRKwwut3I9CJSGjRuwHfz0n6Fk+Hoj+i+Qv6h/y7+KwqjDMMHIrbieBhUwQbm




Hlyj25IwyvYc6OOBymAyy8pUByAC7QWw4KxogDol6165iAubaupDxkDQXKr/IMmj




pCcTBDmVwhStVBDCD6Lo4HhxDE5a6IA4DSxdWIV2iQIDAQABo4GhMIGeMB0GA1Ud




DgQWBBRyFaB24RFh9c9zf0+DYA01twtiWjAfBgNVHSMEGDAWgBRyFaB24RFh9c9z




f0+DYA01twtiWjAPBgNVHRMBAf8EBTADAQH/MA4GA1UdDwEB/wQEAwIBhjA7BgNV




HREENDAyggdhYmMuY29tggkqLmFiYy5jb22CB3h5ei5jb22CDXd3dy5iYWlkdS5j




b22HBH8AAAEwDQYJKoZIhvcNAQELBQADggIBAFYRDs+WyMwr8rPCkzFHnMK0ePfD




cWc1O1L02foAePXEicrqQwv7JnsikBsx28E0T+mjqFU+7IIq7K+T0ndlEfax96Gi




j3H8zfwAG10JBFMjsFtdo8Hq6Q4CeMu1D83NPhQacZ1lOdCp/ZUdRvlcveeBx5VX




hFel6erfsR+6GX6I0b2Z9qIBKwmpxLcsPkY60RuazvkSf7xAd4eNJ18vzdo55J1c




x6mJK+c5J63a/IW6rjEd2v6URwwlbOyuRSurXoETMxYwuxs7pBnxA3MRU/OWIaCy




fAO+2ao4qn4WNo4oGo1BJBaX+mQJa+NwCw2F+sRqGZ+3ooSq2bjjXrLxiytr4b+o




fUBiCzhZLOGaRubJXlWp39dgLf6mo3ajjYPhTUtlqv0ZfX97C7xEXitNY3Dy9aqe




NnQn2+u2dkzEMTc+zW5i+xkByRhoSXY5AhYDdyd0Qtuk1T8sRs38TJmavr6/H6hv




6FGrmgqFypmsVy1LdRAn80yVBce1t3eWcgVnTND+wSS8mEj9rHS4th4sZbwwpVWJ




Z0cJSFnqSLMh7ZrDyzcKFUhgdU7GxuaACxIbBt3f5pCp1QDKffb3kVG333l/OLqN




2qYOTP6iFf3JpKttNvaSA9Q+GNk4t/8ozZW6lfyz+uDfmQecEgAv/u1s1brMgQo7




TQ/vJrJvgyxVSgOH




-----END CERTIFICATE-----
the leaf.pem:
-----BEGIN CERTIFICATE-----




MIIFQDCCAyigAwIBAgIRAPABuQ6DmexEq0k9QQaewMUwDQYJKoZIhvcNAQELBQAw




ajELMAkGA1UEBhMCQ04xDDAKBgNVBAgMA1RKNTEMMAoGA1UECgwDVEpVMRQwEgYD




VQQLDAtiZWl5YW5neXVhbjENMAsGA1UEAwwEYjMyNjEaMBgGCSqGSIb3DQEJARYL




bGkxQDE2My5jb20wHhcNICMwMTAxMDEwSTAwWhcNMzUxMjIzMTEyMzM0WjB7MQsw




CQYDVQQGEwJDTjEMMAoGA1UECAwDVEo1MQswCQYDVQQHDAJUSjEMMAoGA1UECgwD




VEpVMRQwEgYDVQQLDAtiZWl5YW5neXVhbjEMMAoGA1UEAwwDTExRMR8wHQYJKoZI




hvcNAQkBFhBsamZwb3dlckAxNjMuY29tMIIBIjANBgkqhkiG9w0BAQEFAAOCAQ8A




MIIBCgKCAQEArXvIlHbQRwFvnLFz2dsnbPBgE8WIDRpIIpRTWJL+pdi/duUcE5Xn




VRNA0lnlYBOl8igItyFudUC4o45xa0Q9Htd8hisbdaHpRpdTRUUpljH9rOOWOyY0




aqRJ0RrU2ayhJslTH9OBBg1ZaatMYxI2u8Bz1MJrtsCUcvymScT59QAYI17ZAzI5




ouqUsn3F5BgiU53kdm4ubfKts2su/sUvM9BN03+/p2o/50FanBVrRMHAUs2p65FM




yFtNwqT77ZpO9BZdEOV3KSRJRLbZbELoanMQ0txztznWI6PULTenf8eR24dQscqX




N38Qk+SGwp/lu/6qLN916oY2WFTRGrnCcwIDAQABo4HPMIHMMAkGA1UdEwQCMAAw




HQYDVR0OBBYEFI0Gz1ruYze8+EmA4MZ06BPU0AsiMB8GA1UdIwQYMBaAFJI+ilFK




lkx88DEK9Q8K7hNmaHfwMA4GA1UdDwEB/wQEAwIFoDAdBgNVHSUEFjAUBggrBgEF




BQcDAQYIKwYBBQUHAwQwKAYDVR0RBCEwH4IFYS5jb22CCCouYWMuY29tggZ4ei5j




b22HBH8AAAEwGAYDVR0SBBEwD4INYWJjZXd3cnd0LmNvbTAMBgNVHSQEBTADgAED




MA0GCSqGSIb3DQEBCwUAA4ICAQBvx+Z8r/YjdhvkV5XbnRan25H7afvfg3aFHDGW




q2WxNEKynxvdM9TEQtbQXJrWRj9sXXRohaYxObuAic+gYdTOrsYtk48gENG6GH4s




fxdX92XeWm2wUr0KXKOu+Mvtj/egk0bEMQloZe/tkjeOLAGzrJetXyGtxgIA+/XI




E/AyyNULHYFATZWx/XD0Q1s/VOZttPn6FG4qi5UogM/XqqCQbZ8C/DSj9RltQi02




IGmr+CCS4Y9ACHq3HT9YfSFMPV+7OwC/fegLadsd2Bk6TwAi+WNs/48M/LATAsnH




MxFV61T/qHuabPNfmlirpe/ooMWEIAoKKvxght4CztYRK5QZA01BBgqePur4wqAw




JeAp0M+bFWEDvt6xRiijmb261WRTM2C5mqnlQFJSdZ6h9MzerBph4Zvl3USXzEMb




hXPSeIIA7TwEWeH3whqP6w6NnmcS94jCgXnmvv9uInSc/CAKz5h2HElLQroP1Mmh




+KnKOAiSQrr0vyuGjZyxebu7E5RWWS//G2FJrG+2WyOAq0rml8HcjWtZu0I54xYq




rk0SKXpUBAvLbXky9rmAM5MinasHDBnUe7zTjlNuathI+5SPJ83PK/d+0HF6zzud




nvjqR+fWa4N/3jZ0DRquE1gEUWkK7jLegPalIZiLW064nfi6j2q6HP8eiyHarnA0




Mnwt2Q==




-----END CERTIFICATE-----
Edited
by
llqll