Search results are hard to scroll and find correct message
Search results expand as you hover and collapse as you scroll away which causes you to skip a few messages. Most of the message is obscured away because we only show a small portion of the first line. When you know of a particular message, it can be hard to find it again in the search results.

Potential Solutions
Just how the whole message
Most of the time, we can show the whole message and give better context. Only for longer messages, should we hide/ellipse/etc.
Currently highlighting relevant search words is tracked in https://gitlab.com/gitlab-org/gitter/webapp/issues/1361
Expand without affecting layout
Expand search results but don't affect layout. Here is a concept I found from the Reddit /r/AskReddit rules in the sidebar. The extra text that normally would be expanded is in a absolutely position element.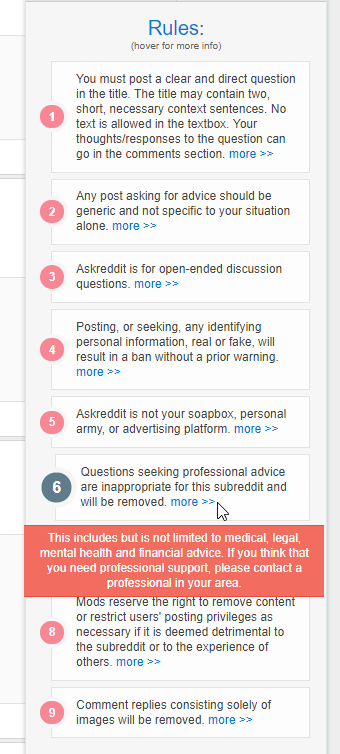 Only show relevant part of message with click to expand
I think ideally, the search result would have the only relevant part of the message in the initially show list and clicking each result would expand the rest of the message and context (similar to Discord and Slack).
Edited
by
Eric Eastwood