Freeze Tag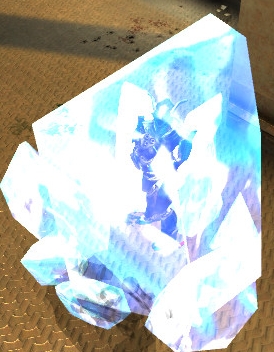 Object of the Game
Freeze Tag is basically like TDM, with 2 teams (red & blue). But instead of fragging your enemies – you freeze them into an ice cube. Once a team is 100% frozen the other team gets 1 point (10 to win). But (!): Frozen players can be unfrozen ("revived").
How To:
Freeze an enemy? Just shoot at him until he is frozen (its similar to a frag).
Revive a teammate? Stand close to a frozen teammate for some seconds (it shows for how long you need to stay).
Map Entities
(Insert Map Entities here)
Helpful Hints and Tips
Some maps can contain powerups like "Strength" or "Shield" (which usually spawn every 2 minutes). They can be useful tools to win a match!
Binds are very useful again to coordinate the team.
You can freeze (or get frozen) in e.g. lava too! Also if you fall into space you will respawn frozen.
List of Demos and Videos
Demo: (Insert Demo or Video Here)
Players: (Insert Player Names Here)
Key Points: (Insert key points in match here)