Request: More frames and delay for BG tiles
Created by: GregoryMcGregerson
Sprites have the feature to add as many frames as you want and determine the speed at which it plays. BG tiles need the same thing. The default of 3 frames isn't really enough for some animations. An example; ocean waves hitting the shore need more then 3 frames to look realistic. FSA for the Gamecube uses 8 frames of animation for this.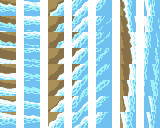 Tileset editor UI: update selected pattern view
Tileset editor UI: update tileset view context menu
Tileset data file parsing
Take into account new animation feature in the engine
Edited
by
Christopho
To upload designs, you'll need to enable LFS and have an admin enable hashed storage.
More information