Add a new list iteration - feedback request
🌟 Feedback request video
Ideating on improving the Add list experience in Boards - Watch Video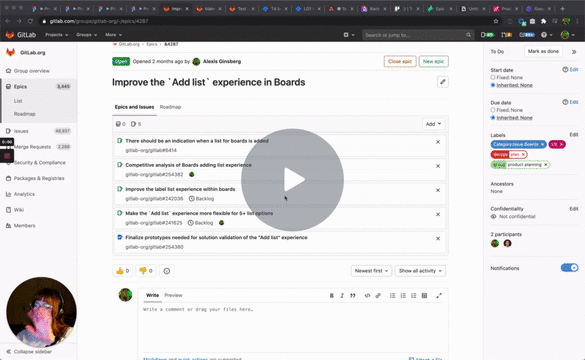 🌟 General problem to be solved
From #241625 (closed) :
Users such as Parker need to be able to easily review and digest the current progress so that they can confidently report to stakeholders and leadership. In order to complete this with a board, they must be able to add relevant lists.
Our team is soon adding at least 3 new list types: Iteration Health status and Epic. Adding these in as tabs to the current experience could start pushing the bound of usability. How might we make this experience more flexible for future options?
🌟 Questions asked in this video
Which button placement makes more sense to you? In the header as it currently is, to the right of the lists, somewhere else? Why?
| In header | At the end of lists |
| --- | --- |
| | |
Would you expect to be able to pick the list first (before a list appears), within the list itself, somewhere else? Why?
| Picking the list type first | Picking the list type within the list |
| --- | --- |
| | |
Do you call these objects lists or columns?

What are your thoughts on adding one list at a time vs many at one time?

Any ideas on how this experience could work when swimlanes are applied?
Board with swimlane rows
Any other thoughts or concerns?
---
🌈 Thank you! 🌈
Edited
by
Alexis Ginsberg