1.2.0-rcgit.10 (git n/a) vnc connector not installed
Created by: pdnmusic
Good morning,
Yesterday 'remmina' was updated under a apt-get update/apt-get upgrade in my Ubuntu 14.04 x64. So now, it shows current version is: 1.2.0-rcgit.10
When I try to connect to a VNC server computer of my list (90% is VNC, the rest is RDP) a message appears that show the text "VNC protocol connector is not installed" (more or less, I just literal translated as the message appears in my language).
Tried to install that connector with the command: sudo apt-get install remmina-plugin-vnc System informs this software is still on its last version on my computer. So, removed and reinstalled. The set-up ends OK but the connector is not present on Remmina.
FYI: The Remmina VNC Connector installed is 'remmina-plugin-vnc (1.1.2-ppa1+874+next+201603091832~ubuntu14.04.1)'
Thanks in advance.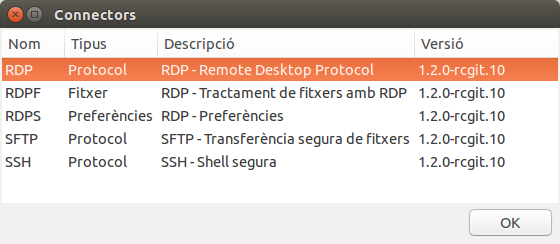 To upload designs, you'll need to enable LFS and have an admin enable hashed storage.
More information